Several events are organized around the screenings:
WORKSHOPS to find out more about filmmaking: phonotrope and confiscope are on the programme this year!
LES SECRETS DE FABRICATION, a rendez-vous where you can go behind the scenes on the making of an animation film.
THE FAMILY AWARD in collaboration with Benshi, the children's cinema guide, so you can select your favourite film!
DÉCOUVERTE DE L'AUDIODESCRIPTION
SAMEDI 11 NOVEMBRE - 16H
LE QUARTZ, SALLE DE COMMISSION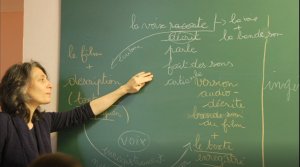 Un atelier animé par Le Cinéma Parle
Cet atelier est un moment d'initiation fine. Il promeut la rencontre des publics et d'un film, par l'intermédiaire du partage des émotions. Il met en commun l'expérience esthétique et propose une nouvelle manière de transmettre et de pratiquer l'art cinématographique.
L'atelier de découverte sensible est un espace de partage que Le Cinéma Parle met en œuvre afin de découvrir par l'expérience les enjeux du dispositif audiodescriptif. Interroger non seulement cette singulière manière d'écrire le cinéma mais aussi son interprétation et son enregistrement (montage, harmonisation ou mixage).
Nous vous proposons d'expérimenter le dispositif avec les films dont la version audiodécrite aura été diffusée pendant la séance Drôles de couples. À partir de différents fragments et dans l'échange avec les autres participants, chacun éprouvera les différentes étapes de la réalisation d'une audiodescription et interrogera quels pourraient être les éléments incontournables d'une version audiodécrite réussie.
PHONOTROPE & CONFISCOPE
SATURDAY 11 AND SUNDAY 12 NOVEMBER
FROM 2PM TO 6PM
LE QUARTZ, FIRST FLOOR
Phonotrope
Workshop animated by Nicolas Diologent and the HSH Crew
Create your own animation films using a turntable and see animation still by still, like in the olden days!
Confiscope
Workshop animated by Bruno Bouchard
Bruno Bouchard, collector of old film reels, returns to the festival this year with a brand new object! We won't reveal all the secrets of the mysterious function of this jam jar... Another workshop about optical illusions and animation.
SECRETS DE FABRICATION « CHANTONS SOUS LA MOUSSE »
SUNDAY 12 NOVEMBER - 3PM
LE QUARTZ, MÉRIDIENNE
Discover the secrets behind model animation with the characters of L'Étrange Forêt de Bert et Joséphine. The filmmaker will take you behind the scenes and show you how to get a puppet to move on screen.
In collaboration with Cinéma Public Films
VOTE FOR YOUR FAVOURITE FILM!
In partnership with Benshi (film-guide for kids), the festival is giving you the opportunity to vote for your favourite film. Send your choice by email to anne.flageul@filmcourt.fr along with a drawing, poem, photo or other personal creation.
The winning short film will be shown for free on-line after the festival, accompanied by the art-work submitted, so you can share it with all the family!